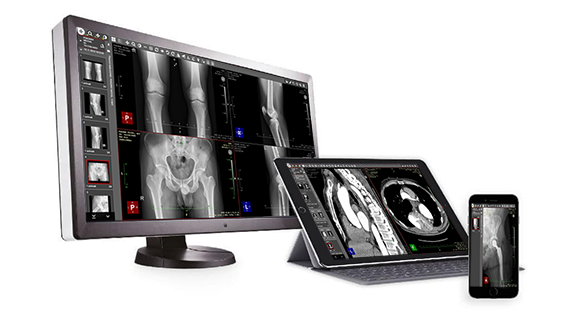 Dicompass Gateway
Dicompass Gateway is a new, modern system, which comprehensively covers the needs of medical facility for archiving, sharing, distribution and displaying of image documentation in DICOM format.
Its completely revolutionary feature is the integration of the PACS archive, DICOM web viewer and other products into one environment . This enables very simple integration of all products and transfer of information and data between them. The user thus works in a single environment with several products or modules. For example, with the appropriate assigned rights, the user is able to edit patient's data or transfer poorly scanned images or series to another patient directly from the viewer environment.
The whole Dicompass Gateway is certified as a class IIb Medical Device.
Main parts:
---

Frequently asked questions:


It is possible to buy only chosen module or is it necessary to buy the whole Dicompass Gateway product?
Yes, it is possible to purchase only a module that covers your requirements.
Gateway WebViewer is a universal viewer that can communicate via the DICOM protocol and with archives from other manufacturers. In this case, however, you will lose the benefits that come from integration with the Dicompass Gateway Archive - the ability to edit patient data directly in the viewer, a unified database of patient data, categorization of stored studies, etc.
Gateway Archiv can be purchased if you already own a viewer and you don't want to change it. In this case, we will allow you to archive the already taken examinations and you will be able to access this stored data via the DICOM protocol.
Gateway Proxy is an integration tool that meets other requirements that cannot be met using a viewer or archive. For example, this platform allows you to transparently access multiple archives without having to choose one, simultaneously store exams in multiple archives without having to manually divide the storage, create a gateway for accessing to the regional PACS solution, etc.


Is it possible to use your products for a small medical facility?
Yes, our products are also adapted to small medical facilities, for example those which have only one modality and are connected to an exchange network (ePACS, RediMed, ...). For consultation, please reach out to the contacts listed in the Contacts section.


Is it possible to use your products for large regional solutions?
Yes, we have already completed several successful implementations of regional solutions, which include viewers, local PACS archives, integration with the regional DICOM data storage platform or the regional data centre. For consultation, please reach out to the the contacts listed in the Contacts section.


Is it safe to use your products for diagnostics?
Yes, our products are certified as a Class IIb medical device and the entire development of this product is certified according to the EN ISO 13485: 2016 standard for medical device development.
---
Dicompass Gateway WebViewer
A cross-platform web viewer that supports installation-free and traceless technology. Its main advantages are:
Installation-free and traceless technology - the viewer leaves no traces after its operation. All you need is a standard web browser.
Individual settings of the application environment - the overall viewer settings can be saved up to the user level. The user then has the same options and tools after logging in every single time.
Consultations - online or off-line consultations. Online consultations take place between users of the medical facility or with external users in a secure manner. External users have only limited access and are separated from other data. All performed operations are smooth and in full quality even on slower internet lines.
Central management of all users and stations - configuration management is easy and well-arranged in one place.
Multiplatform viewer - Support for work on other viewing devices (tablet, phone…) including touch gesture support, working in all standard HTML browsers supporting WebGL technology (Internet Explorer, Edge, Chrome, Firefox and others) across all system platforms (Windows, Apple iOS, Linux, Android).
Simple and intuitive tool control - clear and simple management of control panels and tools for each user according to their wishes. Each user can select their own toolbar and context menu to match their way of work.
Fast image viewing - new viewer features support fast loading of files into memory, including the ability to display images while still loading, thus the user is not limited by the speed of loading.
Licence division


Basic operations - Zoom, magnifying glass, shift, windowing, rotation, flip.
2D measurement - Measurement of lengths, areas, densities, ...
Custom workspace layout - Custom workspace layout, work on multiple screens.
User settings - Saving viewer status, work in progress, keyboard shortcuts, configurations per user, station or organizational unit.
Import, export - Possibility to import or export and burn CDs / DVDs. It is possible to process the entire examination, series or only selected images.
Desktop layout of the workstation - Comparison of two or more examinations on one monitor, displaying of location lines.
Advanced search - Saved search filters, work lists, advanced search in multiple archives.
Timeline - Instant access to an overview of patient examinations arranged neatly in a timeline. Possibility to modify displaying of the timeline, quick opening of previous examinations.
Anonymization - Extensive agenda for anonymizing data during export, printing, ...
Colour palettes, filters - Images can be processed - displayed in standard-defined colour palettes or advanced mathematical filters that for example sharpen edges or suppress noise can be used.


3D displaying of volumes, accelerated multiplanar reconstructions (MPR) , MIP and Isosurface - smooth volume traversal (rotating reconstruction plane ), Curved MPR, changes in slice thickness. Accelerated displaying of MPR, MIP, MinIP, SSD, VRT, Curved MPR
Display MIP (Maximum intensity projection) - displaying of volume in maximum intensity projection mode.
Export MPR a MIP - možnost uložit rekonstruovaný obraz do PNG, JPEG.
Rotating by any angle - images can be rotated by any angle.
Exports between DICOM and other formats - Exports to PNG, JPG, TIFF, MP4, AVI format.
Using multiple screen stations - Comparison of two or more examinations on one or more monitors, displaying of location lines.
Hanging protocols - Depending on the parameters in the images, a defined screen layout is automatically selected with the option of automatically loading older patient images.
Automatic synchronization - Possibility of synchronous browsing of images with automatic synchronization according to the location.


A module enabling displaying of up to 12 lead ECGs, enlarging and reducing the graph, selecting individual leads and measuring them both horizontally and vertically.


DWShare - online electronic collaboration
Possibility of online electronic cooperation (DWShare module), Possibility of inviting users to access the system in a secure form, even if they do not have an account (external users).
Online consultations take place between users of the medical facility or with external users in a secure manner. External users have only limited access and are separated from other data. All performed operations are smooth and in full quality even on slower internet lines.


An extension of standard viewer behaviour
Video trimming and editing - Possibility to edit dicomized video
Work lists - Ability to create work lists based on HL7 messages - based on tags, new work lists can be created automatically or images can be assigned to an existing list.
LDAP/AD - Ability to connect the viewer to Identity Management, thus ensuring the user's login with the same name as he has in other systems.
Audit - Allows access to audit records. All records of user activities and stations are logged and recorded. These records can then be accessed in two directions: what happened with the patient's images or what the XY user did.
Digitization / Dicomization - Possibility to capture analogue signal, convert it to digital form, possibly convert to DICOM format or save to archive.
---
Dicompass Gateway Archive
The archive is a full-fledged PACS archive that enables the storage and distribution of image data from most modalities in the field of DICOM devices. It supports most SOP class.
The system is designed modularly, i.e. it is possible to add other features to the whole system very easily and without major interventions. The basic modules include:
Integration - a module for connecting the Gateway with other IS systems that can produce for example HL7 reports about patients, requests,… (ADT, ORM, ORU,…)
Prefetch - the ability to automatically pre-load the required studies into DICOM viewer so that the user does not have to search for older studies for a chosen patient. Everything takes place on the basis of HL7 information about the performed examinations.
Autorouting - automatic forwarding of studies to predetermined locations
Controlling access to stored data
Connection to AD / LDAP - the possibility of connecting to these identity managers and taking over passwords or inclusion of users in the organizational structure
Compression - the ability to compress stored data. The ratio depends on the data type. Only the data stored on the hard-drive is compressed.
Image compression - this module provides an even higher compression ratio. The data is converted to a lossless form and then stored on the hard-drive.
Audit - auditing of all performed actions within the Gateway
Application pre-fetching - a module enabling automatic forwarding of examinations to given stations to save operator time when searching for examinations. This module is mainly used in connection to desktop DICOM viewers. It has no meaning to use it with the WebViewer web browser.
Replication - a module providing duplication of two servers that are deployed in a double mode. One acts as the primary and the other as the secondary. In case of necessary modifications or during an outage, the operation passes to the secondary server without loss of archive operation.
Categorization - a module enabling to mark stored examinations in the archive with labels and tags which then help to quickly find studies of a similar nature. Labels can also be set on the user, all according to customer's requirements.
---
Dicompass Gateway Proxy
Main functions and goals
- Integration of operated systems
- Use of any number of PACS archives as one
- Consolidation of PACS systems
- Providing the user with a single workplace
- Easier work
- Higher data flow efficiency in medical facilities
- Easier configuration of DICOM devices
- New options for working with DICOM archives
Transparent solution for
- C-Store
- C-Find
- C-Move
- Dicom MWL


- Transparent search of data in one or more archives, unification of results and transmission to the user
- Transmission of information about the location of the data
- Unification of results
- Parallelization of query processing for archives


- Transparent storage / transfer of received data to multiple DICOM repositories
- Synchronous / Asynchronous
- Parallelization of data storage
- Corrections / modifications of data "on the fly"
- Conversion Transfer syntax
- Temporary storage cache in case of DICOM storage failure


- Transparent download of data from one or more DICOM repositories
- If the same data occurs in multiple archives, the data is obtained from the archive with the lowest "price"
- If parts of one study are in different archives, the proxy passes them back to the user as a whole, thus allowing the user to choose which archive he wants to retrieve data from
- Parallelization of retrieving data from the storage
- significant streamlining / acceleration of transfer


- Forwarding work list queries
- Ability to process multiple work list servers