Dicompass Camera
Take photos with your phone, tablet or camera with Android or iOS directly in DICOM format and send the images to PACS.
Dicompass Camera is a great tool for monitoring skin birthmarks, suspicious freckles, bedsores, burns and various injuries. With this mobile application, it is possible to easily store patient image data in the field of plastic surgery, dermatology, pathology, neurology, rehabilitation, etc., directly in the diagnostic phase, in the nursing phase and in nursing in general.
By saving to the PACS, a link with the image documentation and the patient card in hospital information system is automatically created. The doctor can access the records through a DICOM viewer, i.e. in the same way as for radiological examinations.
Function
Patient selection:
full support Modality Work list
possibility of manual entry including support of autocomplete
possibility of reading patient ID from QR code
Localization options:
body part selection
description of the type of finding
Editing records:
cropping image
Supported data formats:
DICOM image (JPEG / Little Endian)
DICOM video (H.264) - iOS only
Možnosti sdílení:
Google Drive, Dropbox, Email
Sharing options:
It is possible to take pictures or make videos without data connection

images or videos are then sent when the PACS is available
Dicompass Camera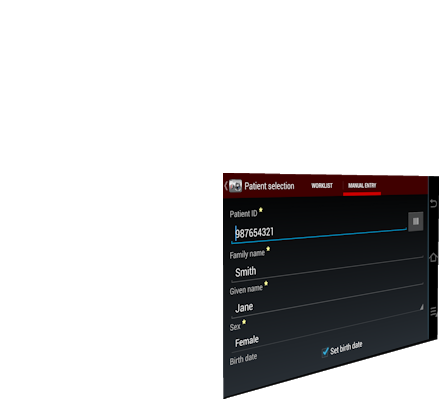 Camera
WiFi
PACS